Is It Better To Wallpaper Or Paint
Posted by:
Admin
Tags:
Posted date:
16-11-2022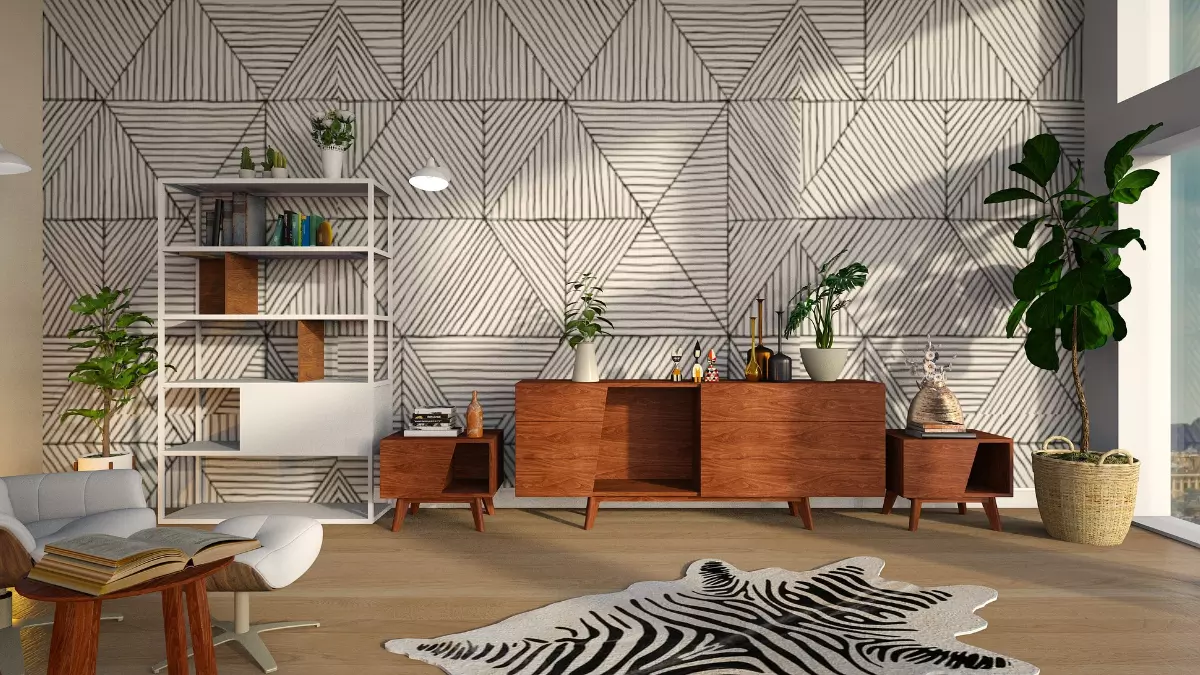 If you ar considering decorating options, you may ask: is it better to wallpaper or paint? We look at painting and wallpapering pros and cons to help you decide which is right for your home.
Is It Better To Wallpaper Or Paint?
Any space may benefit from a splash of colour and flair thanks to both wallpaper and paint. But which choice is preferable? It all depends on your preferences and the decor of the room because both paint and wallpaper are great options.
Depending on the kind, finish, and brand of paint you select, paint often costs less upfront - paints of higher calibre often cost more and last longer; cost-effective paints frequently require touch-ups over time.
When painting, materials like brushes, paint trays, rollers, tape, and protection for the floor and furniture can increase the cost.
The paper and installation components for wallpaper often have higher upfront expenses. Wallpaper, on the other hand, lasts longer than paint, which lowers the expense of further investments; the obvious solution is removable wallpaper if you want to maximise your investment.
The variety of paint possibilities is enormous - you can select almost any hue or tone of paint. It is an excellent choice for solid walls that are flat, glossy, or matte. However, creating designs and patterns with paint is quite difficult, and employing a professional to do so will raise the cost of painting the wall.
Wallpaper comes in solid colours as well as patterns. Fabric, textured, and cloth variations are also available. You might also select wallpaper with sophisticated designs and effects, such as foil and glitter, pearls, and grass fabric.

Wallpapering Pros & Cons
Wallpaper is available in a variety of styles, designs, and patterns. Wallpaper is an excellent alternative for a one-of-a-kind wall covering; depending on the use, it is available in a variety of materials. Unlike paint, wallpaper is completely customisable with an infinite number of colours, patterns, and textures.
Wallpaper patterns are a simple method to transform the look of a space - it's a great way to add patterns or texture to your walls while also making them easy to install. Wallpaper is used as an accent by many designers, and it has become a popular interior trend; it comes in a vast range of designs, styles, textures, and patterns. Prints can also be used to personalise the design; another benefit is that it effectively covers the wall rather than plastering it.
Another disadvantage of wallpaper is what might be lurking beneath that lovely pattern. Since wallpaper prevents air from reaching the wall, it both encourages and conceals mould growth; although most modern wallpaper adhesives contain chemicals that inhibit mould growth, this is not a guarantee. While mould growth is more common in rooms with higher levels of moisture in the air, such as kitchens or bathrooms, it can occur in any room.

Painting Pros & Cons
Matte and glossy finishes are only two of the few that paint may produce. Additionally, when the painting ages, it cracks and has to be reapplied and touched up more frequently.
When painting your walls, it's simple to get stains on your floors, ceilings, furniture, or appliances - since heavy oil-based paint dries more slowly than anticipated and is frequently applied by a professional, it may be challenging to apply it by oneself.
Oil-based paints also tend to run when applied and are less heat resistant; even though the paint has a lifespan of five to ten years, it can also produce toxic volatile organic chemicals that increase the likelihood of having to repaint more frequently.

Wallpaper Vs. Paint Which To Choose?
Wallpaper installation can be a messy and expensive operation, especially if you don't know what you're doing. While tiny wall chips can be readily concealed with wallpaper, bigger holes must be fixed before installation. You must also match the wallpaper design as you cover the entire room and be cautious with the sheets.
Incorrect installation causes the wallpaper to peel or rip sooner than expected, increasing your costs because you will need another sheet to replace the destroyed portion. Although painting your walls is a straightforward operation, you must first fill up any imperfections in the wall before proceeding. Sand the wall to make it smooth once the filler has dried.
After that, prepare the surface and start painting. Opening windows and doors will help to ventilate the space because fresh paint produces strong odours and fumes. Fans on stands or in the ceiling can also be a help.
Additionally, you'll need to cover the area with heavy plastic sheets or extra bedsheets to prevent paint splatters from landing on the room's existing furniture and flooring.
Although it takes time and some skill to hang wallpaper, once it is, the room is ready for use and can accommodate furniture. You could even wallpaper your entire house in a single day if you know how to do it.
Unfortunately, paint requires many coats to get a decent finish and requires at least a few days for each coat to cure completely; as a result, finishing a single room might take several weeks. If you lack separate storage space, you will need to wait until the first room is entirely dry before rearranging the furniture and moving on to the second room.
Wallpapers come in an infinite range of patterns, from floral to geometric; modern printing methods leave very little to the imagination, so you can select any design or print for your walls.
To make your living room feel like spring, you can even find wallpaper with cartoon characters for your child's room or beautiful scenery. Wallpaper comes in a variety of patterns and designs, but if you want to paint your walls a specific colour to match the other furnishings in the room, selecting the right paint colour may be easier.
Wallpaper, when applied and maintained properly, can last 10 to 15 years without needing to be replaced; paint, on the other hand, can last 3 to 5 years before requiring a fresh coat.
A simple cleaning with a moist cloth is frequently all that is required to keep wallpaper looking like new. However, if a rip occurs, you will need to remove and replace an entire part of the wallpaper to keep it looking good - paint chips and cracks readily. Retouching paint, on the other hand, is a relatively simple and quick process.
The only safety concern with wallpaper is during the application process, as a variety of tools and glue are used to cover the wall, which could be dangerous to young children. You should keep your children away from the room until the application is finished. Once installed in any room, wallpaper is relatively safe.
Unfortunately, the same cannot be true about painting, as the dangers of breathing paint fumes are well documented. This is also why, after painting a room, you should constantly open the doors and windows to air it. If the room does not have a fresh air outlet, turn on the ceiling and stand fans. Once the smell and fumes have dissipated, painted rooms are just as safe as ones with wallpaper.
Wallpaper is an excellent way to add sophistication to your home or transform your living space into a cosy seating area. However, if you want to keep your home light, airy, and family-friendly, paint is generally preferred.
Wallpapering your walls will almost always cost more than painting them. However, because wallpaper has a longer lifespan, the cost eventually evens out; this is only recommended if you do not intend to redecorate your home anytime soon, as removing and redoing wallpaper is an extra cost.
Paint is less expensive and easier to refinish, but only if you have the exact shade saved up after the initial paint job. Otherwise, redoing the walls could be an expensive endeavour.
The finest rooms for a wallpaper finish are your living and dining rooms because wallpaper not only gives a sophisticated appeal to these spaces but also provides a longer lifetime to the most utilised sections of the house. While wallpaper is available in a variety of styles, it has a limited lifespan in rooms with high humidity levels, such as your kitchen and bathroom.
Furthermore, avoid using wallpaper in rooms that you may want to refinish shortly, such as your bedroom or your children's room, because people's colour preferences vary over time and removing wallpaper may be difficult.
Interior Painting Services Northampton
If you require further assistance on your living room designs in 2022, please contact our professional and experienced team of painters and decorators. We will be happy to help you redesign and decorate your lounge spaces for maximum comfort and entertainment.
If you require interior painting and decorating services for Northampton or the surrounding areas, follow the link below.